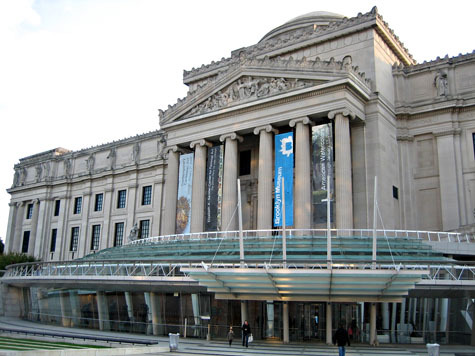 It's easy to fall in love with the Brooklyn Museum as soon as you peak your head out from the subway.

The architecture of the Brooklyn Museum combines traditional columns and intricate stonework with a modern open glass entryway to really give the museum a fresh transitional attitude.

As soon as MTS met up with Matt, he assured us that diversity is key for both the visitors and exhibitions of the museum.

He showed us an awesome gallery that connected places, people, and things and drew common threads throughout a wide time frame.
MTS asked Matt, "Why have teens in museums?" Matt stressed that teens are "hip and knowledgeable" and if museums are cool enough for teens, then they must be doing their job right.

Teens are the future of museums and the more they're involved with museums now, the better museum events and programs will be in the future.

We were then led to check out Ulrike Müller's Raw/Cooked exhibit.

Our task was to use the artwork descriptions to come up with our own drawings that displayed an issue we felt strongly about.
The Brooklyn Museum is famous for its Target First Saturdays, which are FREE events held at the Brooklyn Museum on the first Saturday of every month.

Guests can enjoy free art and entertainment.

MTS invites you to check out these sweet free events!